I hope everyone has had a joyful Christmas and are looking forward to a New Year of exciting happenings in the quilting world. I always enjoy the Festive season to relax, catch up with friends and plan my quilting schedule for the following year. As promised in my last post I have included close up photos of my Sedona Star. My quilting of Sedona Star was inspired by Lisa Sipes version of the same quilt. Lisa is a beautiful person and an absolutely amazing quilter. She lives in Philadelphia, Pennsylvania, which is one of my most favourite places in USA (apart from Houston in November).
This is the centre of the quilt with curved cross hatching around the centre star and McTavishing in the background of the applique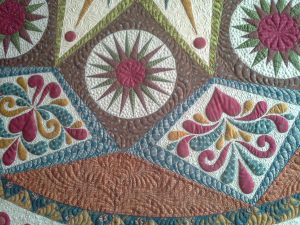 This picture shows the star blocks with pebble background filler, needle turned applique blocks with microstippling and the elongated red filler block. My dear friend Christy Dillon from  My Creative Stitches designed and digitized the motif for this block. I love her feather designs and this design was like the jewel in the crown. Thanks Christy, mum and daughter. The feather designs in all the other sections have been hand guided.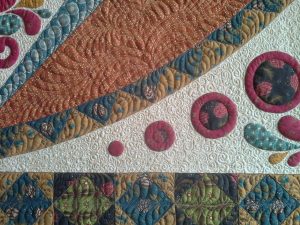 This is a section of the outer corner showing a curly background filler.
Now for more exciting news, my Sedona Star is one of four quilts chosen by The Quilters' Guild of SA Exhibition Committee to hang at AQC (Australian Quilt Convention) in Melbourne in April 2014. This is a very prestigious event and I feel very privileged to have my quilt selected. I will be there !
Stay tuned for news on more exciting events in 2014 including the Seaside retreats at Victor Harbor.