The Quilting Room offers specialist machine quilting services. I use an American Professional Quilting System (APQS) Millennium Long Arm Quilting Machine with Intelliquilter. This is a 'state of the art' computerised system that finishes your quilt perfectly and accurately with precision stitching. The computer enables me to stitch beautiful designs that can be scaled to fit perfectly into any space on your quilt. There are many patterns that you may choose from, or I can custom design one especially for you.
Edge to Edge (E2E): quilting is sewn in rows across the quilt from edge to edge until the quilt is fully quilted.
Custom: This is where one or more different styles of quilting are used to complete the quilt.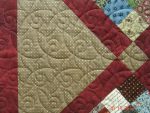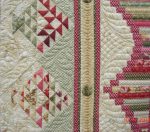 Click for Examples of Edge to Edge (Photo 1) and Custom Quilting (Photos 2-4)
Machine quilting is priced by area. The cost varies depending on the type of quilting you would like.  See the Pricing Guide for more information.
Contact Helen to book in your quilt or complete the online booking form and follow the  Quilt Preparation Guide.
Loyalty Rewards
It is with pleasure that I offer a loyalty reward scheme for my regular customers. Contact me to enquire about how you can receive 1.5 meters of either quality regular width fabric or batting FREE!
Mates Rates
Members of the QGSA receive Mates Rates of $3.50 per sq foot for Edge-to-Edge quilting. Please provide your Guild membership number. Cannot be used with other periodical specials.
Take it and Make it offer
Any quilt kit purchased through my online shop is eligible for 10% off the cost of machine quilting. Take it, make it and return it to me for machine quilting to receive your discount. Can be combined with other loyalty rewards. Minimums apply as per my machine quilting policy.
Payment for Machine Quilting Services
Payment may be made by credit card (below), direct deposit, cheque or money order. Payment bust be finalised before collection of your quilt.

Machine Quilting
Pay for your quilting service here. When your quilt has been completed, you will be emailed a Purchase Order Number and the final Price. Input those details in the fields below and add the "item" to your cart.
Add to Design Wall