Relax and enjoy fully catered workshops by Australian quilt artists at Warradale Urban School Camp in metropolitan Adelaide. The workshop cost includes all meals and tutor fees as well as accommodation if you choose the Live-in option. Each quilting retreat workshop is limited to 16 participants so don't miss out! A non-refundable deposit is required at time of booking.  The balance is payable by no later than two months before the date of the retreat.
You can now Book directly through the online shop (see links for each Workshop below) or contact Helen to reserve your place.

Upcoming Workshops
More Information on the workshops
Katrina Hadjimichael; 26th -27th August 2017
Choose from Spikes and Specks, Bloomin Logs or The Way Ahead
Level: Confident Beginner to Advanced
Venue: Warradale Urban School Camp
Cost: 2 days, $220 Day participant,  
Bookings Open
Katrina has been quilting for nearly 25 years and teaching for 15 years in various patchwork shops around Sydney. She has now spread her wings and has taught in New Zealand and craft cruises. Katrina also hosts UK Jane Austen tour in Bath on a regular basis. We are all very excited for her. Her passions include collecting reproduction fabrics and books about antique quilts. Katrina's award winning quilts inspired by Jane Austen's Pride and Prejudice reflect her passion. She also has designed many pieced quilts that have drawn enormous attention from the quilting fraternity, some of these receiving awards at quilting exhibitions. It is with great pleasure that I am able to offer three of her pieced quilts for a workshop in Adelaide, South Australia. Spikes and Specks is a mix of foundation piecing and blanket stitch applique while Bloomin Logs is pieced and blanket stitch appliqued. The Way Ahead is Foundation pieced.  Please visit Katrina's blog http://katrinahadjimichael.blogspot.com.au/ to see other colour combinations produced by her students and to read about Katrina's journey with these beautiful quilts.
Wendy Williams; 21st -23rd October 2017
Project is your choice from a selection of Wendy's patterns
Level: Beginner to Advanced
Cost: 3 days, $395 Live-in, $320 Day Participant
Venue: Warradale Urban School Camp
Bookings Open
Wendy Williams is returning to The Quilting Room's Seaside Retreats for the second year. However, this time I have managed to book her for three days of fun, stitching her beautiful designs with wool felt and amazing threads. Wendy has very kindly agreed to teach a selection of her beautiful pieces. I have provided photographs of a few of her  patterns. Wendy's workshops are always very popular so don't delay in booking this one!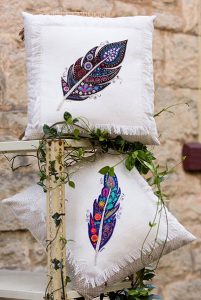 Feather Pillows
         Red Centre Cushions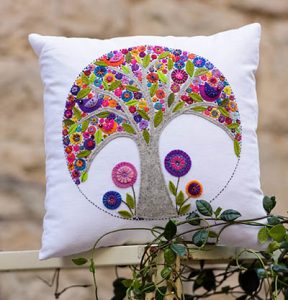 Mini Tree of Life Cushion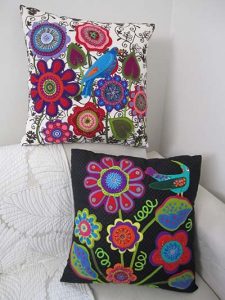 Tropical Fever Cushions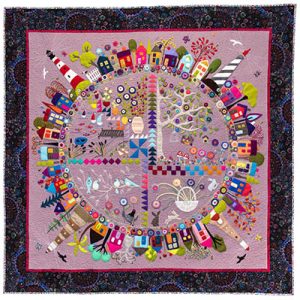 Round the Garden Quilt (Finished size 64.5″ x 64.5″)